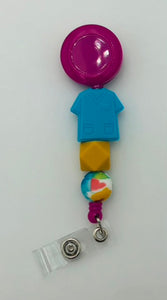 Turn a plain uniform into something fun and unique with this silicone beaded badge reel.  The string of beads is attached at the bottom of the pulley so that you can pull the beads to extend your badge. 
These are great for nurses, teachers, retail workers, or anyone who must wear a name/ID badge.  Makes a great gift for yourself or others.

The badge reel has a clip.  It's 1.25 inches in diameter with a 24 inch retractable cord.